How To Use The Concept 2 Rower
A rowing machine is an elite piece of workout equipment, and not something you always find in every local gym that you can enroll in. But power players often get one for their home gym – and one of the most popular models is the Concept 2 Indoor Rowing Machine.
Rowing can give your body a fantastic resistance workout. If you're a fan of House of Cards, you'll see Kevin Spacey and Robin Wright rowing in just about every single episode.
This rower has a sliding seat that helps you work out every part of your body – legs, back, arms, abs and more. It's not a noisy piece of equipment, either. It has a design that gives you a smooth and quiet workout.
How To Store Concept 2 Rower
While a rower – when put together – is bulky, this one breaks apart into two pieces for easy storage out of the way. And it has wheels on it so you can move it around your home effortlessly.
Each Concept 2 rower has footrests to give you an anchor area. This one is adjustable, so it's great for both men and women. The handles where you grip the rowers are ergonomic, so you're not twisted in an unnatural position.
The rower comes with a 5-year warranty and can handle up to 500 pounds in weight. You can get a fantastic cardio workout using this rowing machine, while simultaneously toning your body all over.
It can even mimic water-based rowing if you want it to – although it's not required.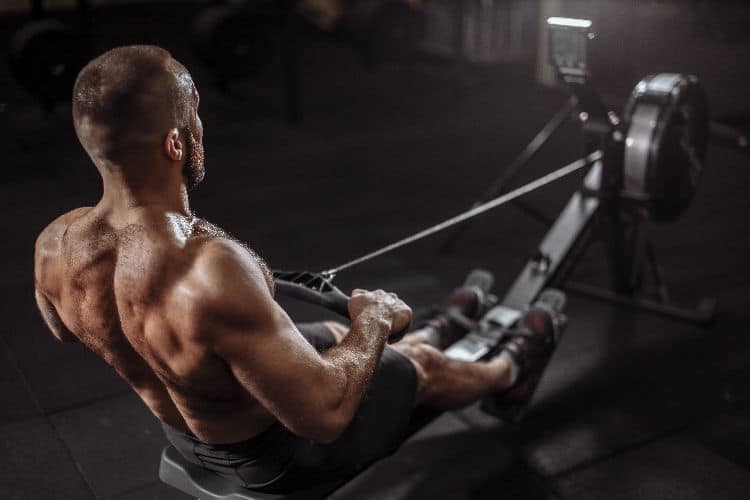 Concept 2 Rowing Machine Workouts
The rowing machine includes a performance monitor so you can track the data of your workouts on a regular basis. This is vital for those seeking to elevate their fitness because it helps you set (and achieve) new goals.
You get to choose what level of exertion you want the rower to provide. This is perfect because each member of your home can choose how hard their workout is.
Taking Care of Your Concept 2 Rowing Machine
You'll want to routinely take care of your rower, oiling the chain with the chain oil that comes with it – but the fact that it's nickel-plated means less work is required of you between maintenance. The rower is very durable, as is evidenced with their lengthy warranty.
You'll need about 9 feet of space by 4 feet in order to fit the Concept 2 Rowing Machine in a room during use, but then you can store it after you break it down into two parts.
Concept 2 Rowing Video